Request for Public Comment on a Rezoning Application
COMMENT PERIOD: MARCH 23 - APRIL 08, 2021
REZONING APPLICATION TO SUPPORT A LICENSED GROUP CHILD CARE
FACILITY PROPOSED AT 733 THIRTEENTH STREET (REZ00211)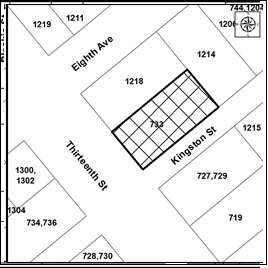 WHAT IS THE REZONING (REZ00211) ABOUT?
A rezoning application has been received to convert an existing single detached house at 733 Thirteenth Street for use as a licensed group child care facility with up to 37 spaces. The applicant, Precious Early Years, is proposing to relocate its existing child care operations from lease properties at 1209 Hamilton Street and 1210 Kingston Street to 733 Thirteenth Street. The applicant is proposing to provide three on-site parking spaces for staff, which exceeds City parking requirements. Drop-offs and pick-ups are proposed for adjacent on-street parking on Thirteenth Street by utilizing a proposed designated five-minute loading zone in the morning and afternoon. Public feedback is requested.
HOW DO I GET MORE INFORMATION?
Find detailed project information and complete the survey on the 733 Thirteenth Street project webpage:
www.beheardnewwest.ca/733-thirteenth
HOW CAN I BE HEARD?
Find project information and complete the comment form found on the project webpage at:
You may also send comments or request a meeting with City staff (via phone or physically distanced in-person) by contacting the Planning Division:
Phone - 604-527-4532
Email - devfeedback@newwestcity.ca
Mail - Development Services Department (Planning), 511 Royal Avenue, New Westminster, BC, V3L 1H9
Send your comments by 5:00 pm on April 08, 2021.
Provincial consideration of comments relating to the Rezoning application require a name and address, and may be made publicly available. A Public Hearing may be scheduled in the future, if determined by City Council.