Request for Public Comment on a Temporary Use Permit Application
MONDAY, MARCH 29, 2021 AT 6:00 PM
Meeting to be held electronically under Ministerial Order No. M192/2020 and Current Order of the Provincial Health Officer - Gatherings and Events
Temporary Use Permit for 40 Begbie Street (TUP00024)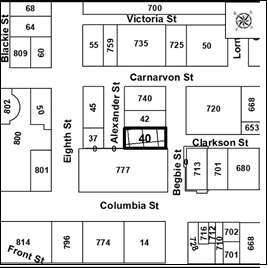 WHAT IS THIS TEMPORARY USE PERMIT ABOUT?
The Lower Mainland Purpose Society has applied to become operator for the New Westminster Health Contact Centre that would include overdose prevention services at their existing location at 40 Begbie Street. The Health Contact Centre would provide a number of integrated services, such as witnessed consumption, drug checking, harm reduction supplies, peer employment opportunities, education on safer drug use, and would conduct regular needle sweeps of the community, including sharps recovery. These services would work in tandem with the existing services already offered by Purpose Society. This project is a partnership with Fraser Health, who initiated the creation of the Centre and would be providing the funding.
As a Health Contact Centre is not a permitted use in the current zoning, a Temporary Use Permit is required. The Permit will allow the Centre to operate for three years and, after that time, may be extended.
HOW DO I GET MORE INFORMATION?
From March 12 to March 29, read the related material at Legislative Services, City Hall 8:30 am to 4:30 pm Monday to
Friday, and online at www.newwestcity.ca/publicnotices
HOW CAN I BE HEARD?
This Temporary Use Permit application will be considered for issuance on March 29, 2021. On May 11, 2020, Council approved a resolution requiring written feedback only on Temporary Use Permit applications during the period of the COVID-19 State of Emergency. Send your comments by email, post, or dropping off at the mailbox on the north side of City Hall by March 29, 2021 to:
Email: clerks@newwestcity.ca
Mail: Legislative Services Department, 511 Royal Avenue, New Westminster, BC V3L 1H9

Questions? Phone: 604-527-4523
Watch the meeting at newwestcity.ca/council.
Comments received by 5 pm, three business days before the meeting will be included in the agenda package. Later comments received until the end of the hearing will be distributed on table at the meeting. All comments are published.
Jacque Killawee, City Clerk