Request for Public Comment
Monday, November 15, 2021 at 6:00 pm
Meeting held electronically and in Council Chamber, City Hall

Temporary Use Permit for 502 Columbia Street (TUP00027)
WHAT IS THIS TEMPORARY USE PERMIT ABOUT?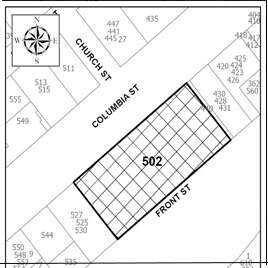 The Lower Mainland Purpose Society has applied for a Temporary Use Permit (TUP) to operate an emergency shelter on the lower floor of the former Army and Navy Department Store, located at 502 Columbia Street. The emergency shelter could comprise an Extreme Weather Response Program (EWRP) shelter, which would be operational from November 1 to March 31 and activated during extreme weather events, or an Emergency Response Centre shelter, which would operate 24/7 for up to 18-months or until new supportive housing is in place. The shelter would: provide up to 50 mats or beds, serve adults, could offer support services, and would be accessed from Front Street.
A TUP is required, as an emergency shelter is not a permitted use under the current C-8 zone (Columbia Street Historic Comprehensive Development District). The proposed TUP would allow the emergency shelter to operate for three years, with an option to renew for an additional three years subject to Council consideration.
For further information please visit beheardnewwest.ca
HOW DO I GET MORE INFORMATION?
From November 03 to 15, 2021 (except November 11), read the bylaw and related material online at newwestcity.ca/publicnotices and in person from 8:30 am to 4:30 pm, Monday to Friday at Legislative Services, Second Floor City Hall, 511 Royal Avenue, New Westminster, BC V3L 1H3
HOW CAN I BE HEARD?
This Temporary Use Permit will be considered for issuance on November 15, 2021. Pursuant to a July 12, 2021, Council resolution, written feedback is welcomed. Send your comments by email, mail, or dropping off at the mailbox on the north side of City Hall by November 15, 2021 to:
Email: clerks@newwestcity.ca
Address:
Legislative Services Department,
511 Royal Avenue, New Westminster, BC V3L 1H9
Council will consider issuance of the permit at the City Council meeting on November 15, 2021. The meeting will be broadcast live on the City's website and can be viewed by going to newwestcity.ca/council and clicking on the meeting in the meeting calendar.
Written comments received by 5 pm, three business days before the meeting will be included in the agenda package. Later comments
received until Council considers the item will be distributed on table at the meeting. All comments are published.
Jacque Killawee, City Clerk