Request for Public Comment
MONDAY, OCTOBER 3, 2022 AT 6:00 PM
Meeting held electronically and open to public attendance in Council Chamber, City Hall
Temporary Use Permit for 97 Braid Street (TUP00028)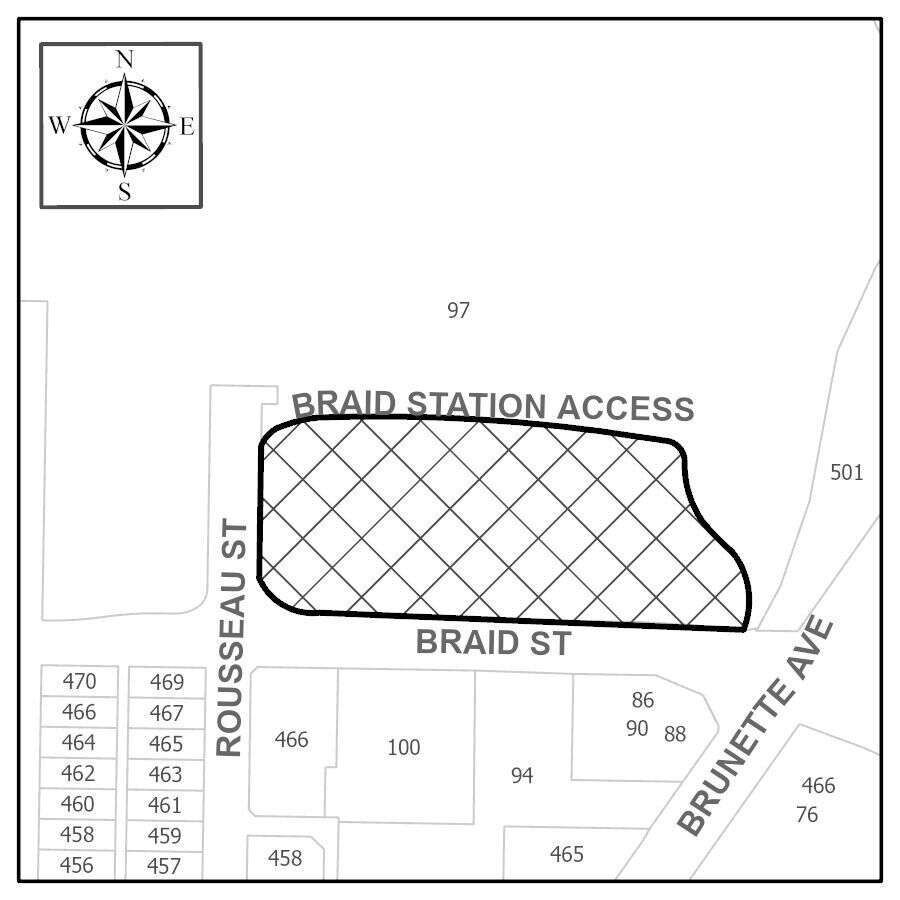 WHAT IS THIS TEMPORARY USE PERMIT ABOUT?
Fraser Health Authority has applied for a Temporary Use Permit (TUP) to continue using a portion of the property located at 97 Braid Street as temporary parking to facilitate phase 2 of the Royal Columbian Hospital (RCH) redevelopment. The term of the TUP is three years until October 3, 2025. The TUP will have the same conditions as the original for phase 1 of the redevelopment consisting of up to 500 spaces for use by RCH staff and construction workers during the hospital redevelopment and food truck operation during times when the site is not being used by RCH staff and construction workers. The new permit would also allow the existing tenants located at the site (Planet Lazer, and the Soccer Academy) to have restricted access (after hours) for overflow parking.
This Temporary Use Permit was previously scheduled to be considered for issuance on September 19, 2022, but the Council meeting was cancelled because of the Day of Mourning for Queen Elizabeth II.
HOW DO I GET MORE INFORMATION?
From September 22 until October 3, 2022, except September 30, 2022, read the related material at Legislative Services, City Hall 8:30 am to 4:30 pm Monday to Friday, and online at: www.newwestcity.ca/publicnotices
HOW CAN I BE HEARD?
This Temporary Use Permit will be considered for issuance on October 3, 2022. On July 12, 2021, Council approved a resolution requiring written feedback only on Temporary Use Permits. Send your comments by email, mail, or dropping off at the mailbox on the north side of City Hall by by October 3, 2022 to:
Phone: 604-527-4523
Email: clerks@newwestcity.ca
Mail: Legislative Services Department, 511 Royal Avenue, New Westminster, BC V3L 1H9
Watch the meeting at www.newwestcity.ca/council
Written comments received by 5 pm, three business days before the meeting will be included in the agenda package. Later comments received until the close of the hearing will be distributed on table at the meeting. All comments are published.
Carilyn Cook, Acting City Clerk