City-Led Community Consultation
COMMENT PERIOD: April 19 – May 10, 2023
REZONING APPLICATION FOR 102-128 EAST EIGHTH AVENUE AND 721 CUMBERLAND STREET (REZ00204)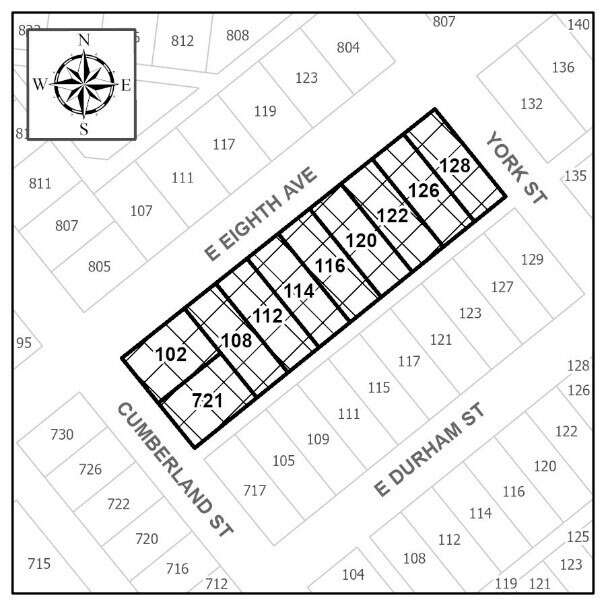 WHAT IS THE REZONING (REZ00204) ABOUT?
Rezoning and Development Permit applications have been received for 102-128 East Eighth Avenue and 721 Cumberland Street. The proposed development includes 55 infill townhouse units with an overall floor space ratio (FSR) of 1.0 across eight buildings. The buildings would be oriented parallel to East Eighth Avenue on both sides of a central pedestrian courtyard. The development includes 93 off-street parking spaces (86 resident stalls and six visitor stalls within an underground parkade, and one loading stall off the lane). A total of 69 long-term bicycle storage spaces and six short-term bicycle spaces for visitors are also proposed.
The application proposes to rezone the properties from Single Detached Residential (RS-1) to Infill Townhouse and Rowhouse Residential (RT). The proposal is consistent with the site's Residential – Ground Oriented Infill Housing (RGO) designation in the Official Community Plan.
Images of the proposed development are available on Be Heard New West. This is the last opportunity for public comment on the updated proposal prior to the application being forwarded to Council for consideration.
HOW CAN I BE HEARD?
Complete the comment form and find detailed project information on the project webpage at:
https://www.beheardnewwest.ca/cumberland-st
If you are unable to access the webpage, please contact the Planning Division:
Phone: 604-527-4532
Email: devfeedback@newwestcity.ca
Mail: Climate Action, Planning and Development Department - Planning, 511 Royal Avenue, New Westminster, BC, V3L 1H9
Send your comments by end of day on May 10, 2023.