Public Hearing
PUBLIC HEARING
MONDAY, MARCH 28, 2022 AT 6:00 PM
Meeting held electronically and open to public attendance in Council Chamber, City Hall
Heritage Revitalization Agreement Bylaw No. 8290, 2022 and
Heritage Designation Bylaw No. 8291, 2022 for 1324 Nanaimo Street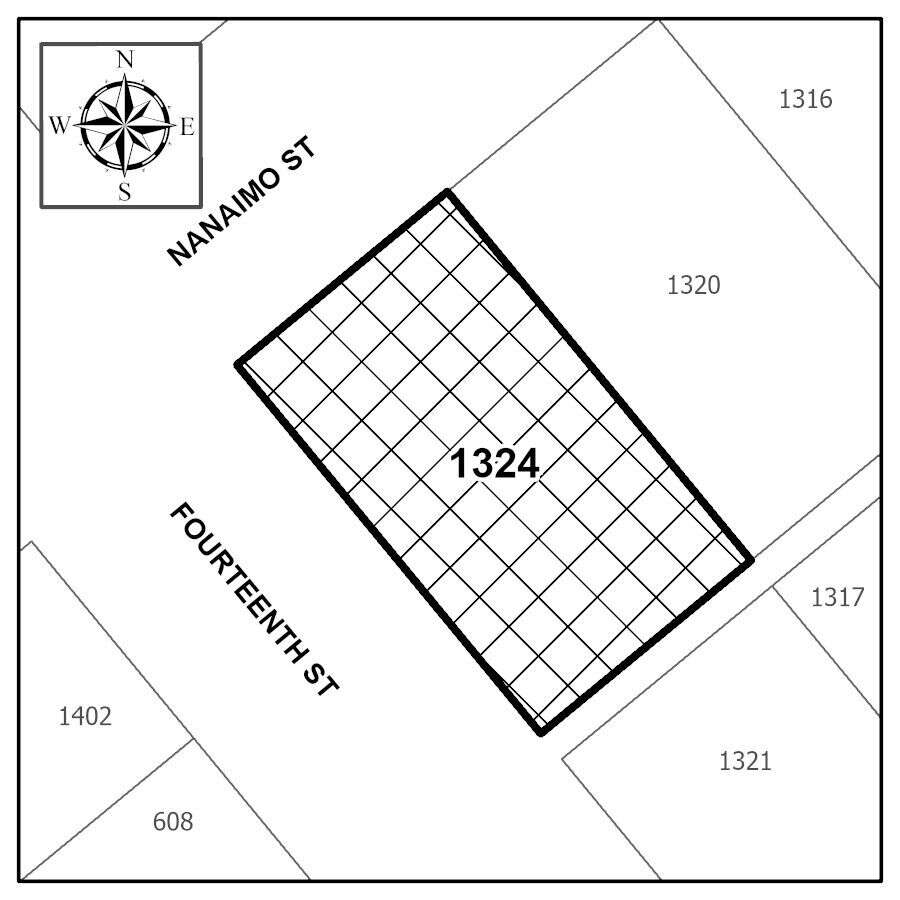 WHAT ARE THESE BYLAWS ABOUT?
Heritage Revitalization Agreement (HRA) and Heritage Designation Bylaw applications have been received for 1324 Nanaimo Street (shown in bold on the adjacent map) to protect and restore the existing 1944 house. In exchange the HRA would allow subdivision and construction of a new 157 sq.m. (1,687 sq.ft.) infill house. The heritage house would be on a 400 sq.m (4,315 sq.ft.) lot and the new house on a 296 sq.m. (3,194 sq.ft.) lot. Both houses would include secondary rental suites. The primary Zoning Bylaw relaxations proposed through the HRA for the heritage and infill houses include density, lot size, site coverage, front yard setbacks, and off-street parking spaces. Two additional relaxations are required to the proposed below grade windows and to the sunken patio for the infill house. One relaxation (to the floor space above grade) is required to regularize the existing heritage house.
HOW DO I GET MORE INFORMATION?
From March 10 to March 28, 2022, copies of the proposed bylaws and related material are available for inspection at Legislative Services, City Hall 8:30 am to 4:30 pm Monday to Friday, and online at www.newwestcity.ca/publicnotices
HOW CAN I BE HEARD?
Written submissions by email, post, or dropping off at the mailbox on the north side of City Hall are welcome and encouraged.
Speak at the meeting by computer, smart device or phone via Zoom:
1. Computer, Smartphone or Tablet: go to www.newwestcity.ca/council#JoinAMeeting, and click or tap the Meeting ID button
2. Phone: Call 778-907-2071. Enter meeting ID 655 9404 5919, followed by #
Speak in person at the meeting. A mask is required.
Starting at 8:30 am on March 10, 2022, register online at speakers.newwestcity.ca, or contact Legislative Services to comment, register to speak, or make an appointment:
Written comments received by 5:00 pm, three business days before the meeting will be included in the agenda package. Later comments received until the close of the hearing will be distributed on table at the meeting. All comments are published.
Jacque Killawee, City Clerk