Virtual Information Session on a Health Contact Centre (Overdose Prevention Site)
Temporary Use Permit for 40 Begbie Street (TUP00024)
Comment Period from January 27 to February 24 2021
Virtual Information Session hosted on Wednesday, February 17 2021 from 6:00 - 8:00 pm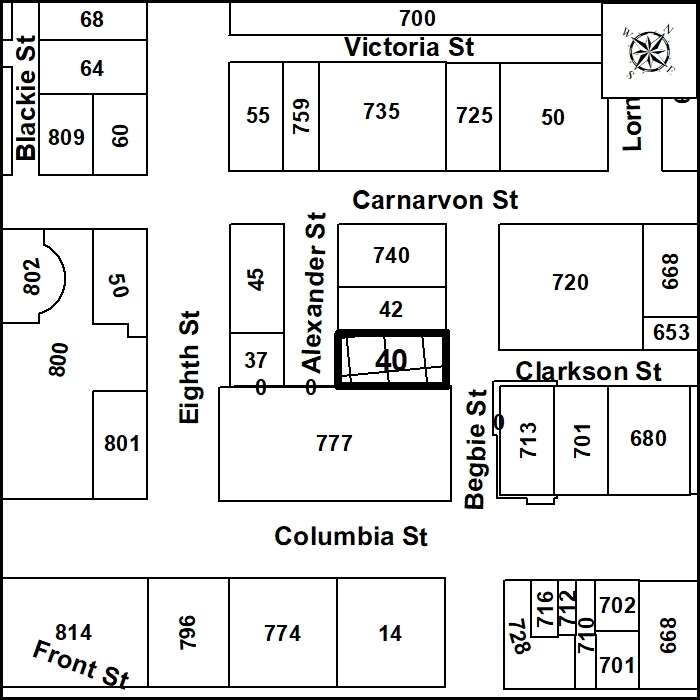 WHAT IS THE TEMPORARY USE PERMIT FOR 40 BEGBIE STREET ABOUT?
The Lower Mainland Purpose Society has applied to become operator for the New Westminster Health Contact Centre that will include overdose prevention services at their existing location at 40 Begbie Street. The Health Contact Centre will provide a number of integrated services, such as witnessed consumption, drug checking, harm reduction supplies, peer employment opportunities, education on safer drug use, and will conduct regular needle sweeps of the community, including sharps recovery. These services will work in tandem with the existing services already offered by Purpose Society. This project is a partnership with Fraser Health, who initiated the creation of the Centre and will be providing the funding.
As a Health Contact Centre is not permitted use in the current zoning, a Temporary Use Permit is required. The Permit will allow the Centre to operate for three years and, after that time, may be extended. Council may attach conditions to the issuance of the permit to ensure that the impacts of the temporary use on existing businesses and properties are mitigate.
VIRTUAL INFORMATION SESSION
On February 17 2021 from 6:00 - 8:00 pm there will be an Information and Question & Answer session hosted on Zoom.
There are three ways to participate in the virtual information session:
Computer: Go to www.zoom.us, click on "Join a meeting". Enter Meeting ID when prompted, and click "Join".
Smartphone/tablet: Download the Zoom Cloud Meetings app, open it, select "Join a meeting". Enter meeting ID, and select "Join".
Phone: Call 778-907-2071. Enter the meeting ID followed by #.

MEETING ID:

698 9024 2653

Find project information and complete the comment form found on the project webpage at: beheardnewwest.ca.

HOW CAN I BE HEARD?
You may also send comments or request a meeting with City staff (via phone or physically distanced in-person) by contacting the Planning Division:
Phone: 604-527-4532
Email: devfeedback@newwestcity.ca
Mail: Development Services Department - Planning
511 Royal Avenue, New Westminster BC V3L 1H9
Send your comments by February 24, 2021.
Provincial consideration of comments relating to the Temporary Use Permit application require a name and address, and may be made publicly available. An Opportunity to be Heard hearing may be scheduled in the future, if determined by City Council.