Request for Public Comment
MONDAY, MAY 03, 2021 AT 6:00 PM
Meeting to be held electronically under Ministerial Order No. M192/2020 and the Current Order of the Provincial Health Officer - Gatherings and Events
Temporary Use Permit for 445 Brunette Avenue (TUP00025)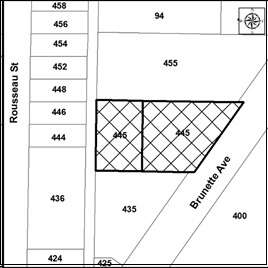 WHAT IS THIS TEMPORARY USE PERMIT ABOUT?
An application has been received for a Temporary Use Permit (TUP) to allow a temporary parking lot at 445 Brunette Avenue. The parking lot would fulfil the terms of an agreement which requires the parking for Urban Academy staff and visitors currently located at 100 Braid Street to be provided at an alternative location near the school during future construction at 100 Braid Street. There would be 101 parking spaces for use by Urban Academy staff and visitors, as well as by related construction workers. A TUP is required to allow the parking lot because the existing light industrial (M-1) zone does not permit parking for uses not taking place on the site. The timeline for the TUP would be for whichever is less: the time required to complete construction at 100 Braid Street or three years (the maximum time allowable at issuance of a TUP). If required, the applicant could apply to Council for an extension of up to another three years under the same permit.
HOW DO I GET MORE INFORMATION?
From April 16 to May 3, read the related material at Legislative Services, City Hall 8:30 am to 4:30 pm Monday to
Friday, and online at www.newwestcity.ca/publicnotices
HOW CAN I BE HEARD?
This Temporary Use Permit application will be considered for issuance on May 03, 2021. On May 11, 2020, Council approved a resolution requiring written feedback only on Temporary Use Permit applications during the period of the COVID-19 State of Emergency. Send your comments by email, post, or dropping off at the mailbox on the north side of City Hall by May 03, 2021 to:
Phone: 604-527-4523
Email: clerks@newwestcity.ca
Mail: Legislative Services Department,
511 Royal Avenue, New Westminster, BC V3L 1H9
Comments received by 5 pm, three business days before the meeting will be included in the agenda package. Later comments received until the end of the hearing will be distributed on table at the meeting. All comments are published.
Jacque Killawee, City Clerk
Watch council meetings at newwestcity.ca/council.