Notice of Waiver of Public Hearing
Public Hearing waived under S. 464(2) of the Local Government Act
Monday, September 27, 2021 at 6:00 pm
Meeting held electronically under Ministerial Order No. M192/2020, and open to public attendance in Council Chamber, City Hall
Zoning Amendment Bylaw No. 8266, 2021 for 819 Milton Street (REZ00207).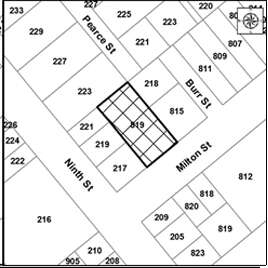 NOTICE OF WAIVER:
Notice is given under s.464 (2) of the Local Government Act that Council waived the holding of a public hearing respecting Zoning Amendment Bylaw No. 8266, 2021. An application has been received to rezone 819 Milton Street from single detached residential (RS-1) to duplex (CD-77). This is the first application under the Duplex, Triplex and Quadraplex Interim Review Policy pilot program. The CD-77 Zone would allow a building with an overall Floor Space Ratio (FSR) of 0.60 and a height of 7.62 meters (25 feet), which is consistent with other duplex zones in the City. Parking for four vehicles would be in a carport at the rear of the property. The duplex would be designed as "suite ready" to enable future construction of legal secondary suites.
HOW DO I GET MORE INFORMATION?
From September 10 to September 27, 2021, read the bylaw and related material at Legislative Services, City Hall 8:30 am to 4:30 pm Monday to Friday and online at: www.newwestcity.ca/publicnotices
This bylaw will be considered for third reading and adoption on September 27, 2021. The meeting will be open to public attendance and broadcast live at www.newwestcity.ca/watchcouncil.
Jacque Killawee, City Clerk